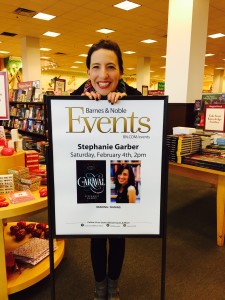 Hey friends!
Caraval is officially out in the world, which means the Caraval book tour is now underway! Thank you again to everyone who  to the first stop, at Kepler's Books, this last Tuesday–I couldn't not have asked for a more enthusiastic group of people to celebrate that evening with. I had a great time, and I think the next tour stop is going to be just as fun.
So, for those of you who might have missed it I wanted to post a reminder that I'll be at Barnes & Noble in Roseville, California, this Saturday (February 4) at 2:000. My dear friend, author Jessica Taylor, will be there with me as well, asking questions about Caraval so that all of you can get a behind the scenes look at the book.
For anyone who may have missed it, here are two updated lists of the tour stops. I'll also be joined by NYT bestselling author, Veronica Rossi, in Corte Madera, Jessica Cluess, author of A SHADOW BRIGHT AND BURNING at Vroman's in Pasadena, and NYT bestselling author, Joelle Charbonneau will be joining me at Anderson's Bookshop.