Events
July 7-10: SCBWI LA Summer Conference, Los Angeles, CA
June 15, 2017: Out Of This World Panel, South Irving Library, Irving, Texas
June 3, 2017: BookCon, NYC
April 21, 2017: TLA Annual Conference, San Antonio, Texas
April 1, 2017: Mysterious Galaxy, San Diego, CA
The lovely Roshani Chokshi is letting me be a part of her A Crown of Wishes tour. So you will get to see both of us here, plus the amazing Cindy Pon. 2pm.
UK Caraval Tour: February 23-27 2-17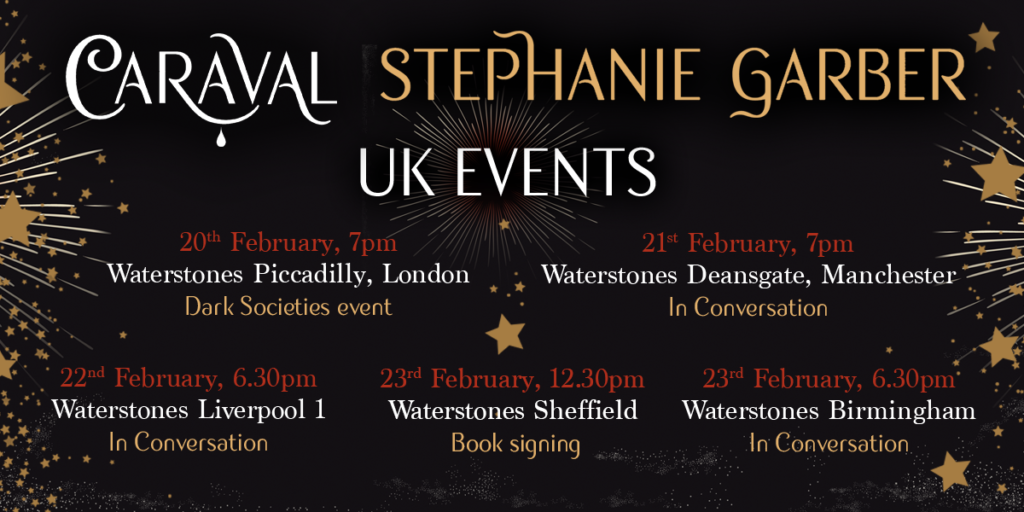 US Caraval Tour:  January 31, 2016–February 14, 2017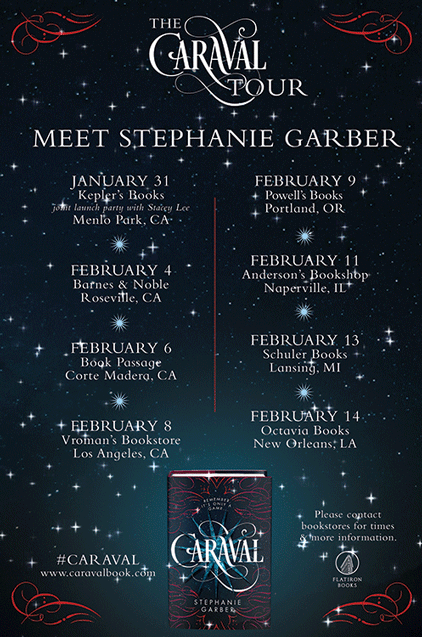 November 4-6, 2016, YALSA Young Adult Services Symposium.
Saturday, November 5th, 1:30-3:00: I'll be a part of the William C. Morris Author Forum with Fellow YA authors, Roshani Chokshi, Laure Eve, Meredith Russo, Christine Kendall, and moderator E.K. Johnston.
August 30, 2016, I'll be in conversation with Sabaa Tahir for the launch of her highly anticipated sequel, A Torch Against the Night. Kepler's Books, Menlo Park, 7:00 pm
June 25th & 26th, 2016, ALA Summer Conference, Florida.
Saturday, June 25th, 2:00-3:00: In booth ARC signing of Caraval.
Sunday, June 26th, 9:00-10:00: YALSA'S YA Author Coffee Klatch
May 11-13, 2016, Book Expo America, Chicago
Caraval has been chosen as a BEA Buzz Panel Book, which means I get to be on the BEA Young Adult Author Buzz Stage, Friday May 13th.
Panel: Friday, May 13th, 10:00AM-10:30AM. Uptown Stage, McCormick Conference Center
Caraval ARC signing: Friday, May 13th, 11:30AM-Noon. Macmillan Booth (Booth 1958) *This is a ticketed event
April 29 & 30, 2016 SCBWI Spring Spirit Conference, Citrus Heights, CA
I'll be teaching two sessions at this conference with fellow young adult author, Jessica Taylor. We'll be talking about, YA Dos and Don'ts, & Building a Cast of Characters. For more information, check out the official conference site here.
April 4-7, 2016  The Bologna Children's Book Fair, Bologna Italy
I'm really excited to be attending this exciting event. If you're going to be there as well, please let me know as I'd love to say hello.
March 17, 2o16 TOAST THE AUTHOR EVENING, Colusa, CA
A conversation about writing processes and roads to publication, with Alexis Bass, author of What's Broken Between Us (Harper Teen), and Love and Other Theories (Harper Teen), and Jessica Taylor, author of Wandering Wild (Sky Pony Press), and Maps For Lost Girls (Dial/Penguin).
vvsvdsdvsdsdvsvsdvdsv