It's Eleven days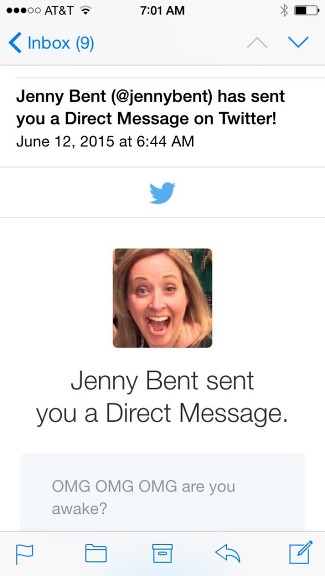 until Caraval releases, so I thought it would be fun to share a little bit about how it sold. This picture is one of my favorite screenshots—it's also one of the happiest memories of my life.
For those of you who don't know Jenny Bent (the awesome woman in the picture) she is my literary agent, and she sent me this DM the morning after she'd first sent Caraval to editors. I remember shaking as I messaged Jenny back to ask what had happened. Then I started crying as she told me that one of the editors she'd sent the manuscript to read it the very same night and loved it. And this was my dream come true moment.
I wrote five books before Caraval and I remember literally having dreams that someone had read one, loved it, and wanted to publish it. They were the happiest of dreams, and then I would wake up tangled in my sheets and with an email box full of rejections.
Caraval was going to be the last book I wrote. When I first wrote it several people thought it was a mistake—I was told fantasy was a dying trend, my first chapter was too odd, books that had any type of circus theme were difficult to sell. So even thinking about this moment now brings me to tears. I didn't end up selling the book to this editor, but I will be forever grateful that she gave me this magical, wondrous moment. And I will forever love my agent as well—once a book sells people talk a lot about their editors and their publishers, but my agent, Jenny Bent, has been just as big of a champion, and I am so very thankful for her.