Hi friends,
I just got back from ALAAC 16 and it was amazing! If you'd like to see some pictures I've shared them on Facebook, and I might try and do a more thorough writeup for the blog later this month.
In the meantime I do have a couple interviews I'd love to share. Before I left for ALA, one of my favorite local bookstores, Books Inc, asked me some questions about CARAVAL, and my path to publication. I was really honest about how many rejections I received, so if you are feeling in need of some encouragement, this might be a post to check out.
I also chatted with one of my favorite bloggers. Some of you might know her as YA Perfectionist and she asked some really fun questions about CARAVAL. She's also hosting an ARC giveaway along with her interview, so it's definitely worth checking out–you can find it right here!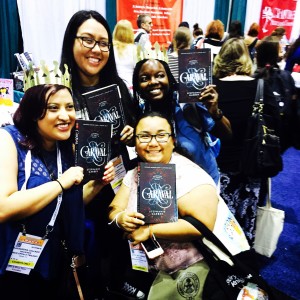 Until next time, I'll leave you with one of my favorite pictures from ALA. My editor took this photo while I was signing books–these lovely ladies blog at Once Upon A Twilight and they are truly lovely!
xo